ALPHA MALE LOOK GOOD AND FEEL GREAT GROOMING SERVICE
Body shaving, clippering & waxing. Dead Sea Salt Body Scrub. Mud scrub from New Zealand hot springs. Turbo shower. Masculine facials and manicure. Only first-class, quality products used.
Take care of your skin today and it will take care of you in the future. It's never too soon but at the same time never too late to start to hold back the years. Enhances definition. It's so easy to keep yourself looking great; at the gym, , on some far away exotic beach, in the honeymoon suite or just for your own personal comfort. Ideal preparation pre-tattoo.
Gain confidence and improve your self esteem. A body scrub with salts from the Dead Sea or mud from the hot springs of New Zealand gives you that uplifting feeling that you get when wearing new clothes for the first time. The treatment itself is a stunning experience. Body shaving, clippering or waxing is also available to tidy up, re-shape or remove body hair; available for all areas. Masculine facial completes your skin care; give you the fresh and healthy look.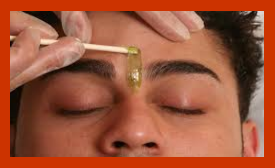 MAN-KIND SKIN CARE All over body scrub with salts from the Dead Sea, mud from New    Zealand hot springs or select from the menu of top exfoliating products when you arrive. Select the one you like best or leave it to me to match it to your skin-type requirements. Leaves the skin fully exfoliated of dead cells and feeling wonderfully fresh all over. One visit is an extra special treat but taken as a regular visit every few weeks can help to hold back the years as each scrub builds on the benefits of the previous ones. A very relaxing and therapeutic treat.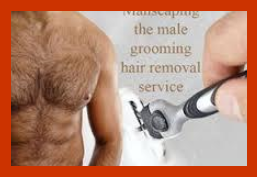 MAN-SCAPE BODY SHAVING AND WAXING  Keep body hair under control with a regular clippered "Shape-and-Tidy". Look your best on a far-away exotic beach, in the gym changing room or just because you find it more comfortable. Untidy back and chest hair can be quite ageing, a "Shape-and-Tidy" can be enhancing to physique definition . Quick and comfortable with titanium body     clippers. Followed with a relaxing application of itch-reducing moisturising lotion Hair removal can be done by clippering or wet shave or a combination of both. All areas from eyebrows to full body.
Waxing is done with tea-tree wax applied with roller system which distributes the wax more evenly than the old fashioned pot-of-wax systems. This enables the wax to be removed more quickly and  easily and so less painfully than it used to be! Hard wax is an option on difficult-to-get-at or sensitive    areas. Please do not shower for at least two hours before a waxing appointment.
Depilitory cream can be used on light, difficult, or tender areas. A gentle application and the hair just melts away minutes later. A skin test should be done prior to first visit. Not suitable for larger areas. All treatments include a relaxing application of itch-reducing moisturising lotion.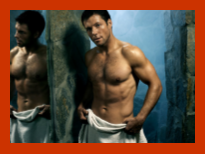 MAN-ALIVE TURBO SHOWER   If you like to take a shower prior to your massage or following your grooming there is a shower cubicle with five variable shower heads. Adjustable from a gentle spray to turbo-powerful. A range of top quality shower gels and luxury thick shower mousse is available for you to choose from. Just stand in the shower and enjoy the silky sensation.