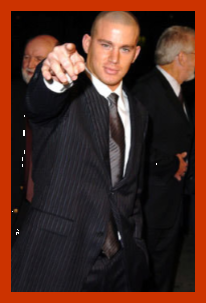 In the 21st century men no longer have to be satisfied with a quick shower and a spray of deodorant. Relax your mind and caress your senses, look good and feel good all over; improve and maintain good health.
This is modern grooming for modern men. Liberate yourself from your old routine; make a new man of yourself. Taking time out to come for a POWER PAMPER  and letting go of your stress can help you to perform better afterwards, at work, home or leisure.
This is a masculine makeover for modern men, the original Pamper Package at the ALPHA MALE STUDIO, available since 1997 and still as popular today as it was then.
POWER PAMPER the ultimate pampering package. Why look lumpy and feel grumpy when you can look yummy and feel scrummy? Your POWER PAMPER visit will include Man-Scape Shape-and_tidy. Quick clippered tidy-up of body hair if required. Man-Alive shower OR Man-Kind body scrub Man-Tastic full-body hot rocks masage… Or other massage of your choice from the range available in massage menu. Skip anything not needed. Fill up to two hours with an alternative choice instead. Totally unhurried. Relaxation time till you leave.
The Foot-

Man

pedicure
is a wonderfully relaxing treatment for tired, aching feet. When they ache the feeling seems to go up and through your entire body. You probably know the feeling… It just "gets you down". Sit back and enjoy the experience. When your feet feel good you feel good all over. Reduction or removal of calluses Foot-spa soak with deodorising crystals Dead skin foot-scrub with Dead-Sea salt crystals Polishing skin-sloughing with oatmeal and apricot kernals Nails care Foot massage with cooling menthol gel or aloe vera moisturiser Advice to keep your feet fresh and healthy.
MAN

-IFEST
Skin-care makeover Man-Scape Shape and Tidy Man-Kind body scrub OR Man-Alive turbo shower Man-Date Fresh and Healthy facial Man-icure Fresh and Bright Foot-Man pedicure.
MAN

-DATE EXECUTIVE LOOK
  To put the finishing touch to your grooming or massage session add on some facial treatment and/or hands and nails care to give the executive look. Also available separately from other treatments. All done as required with a masculine approach.  The male skin has certain unique properties attributable to the male hormone, testosterone. At 2mm, it is about 0.5mm thicker than the female skin on average. It is also more acidic and produces more collagen and sebum. Daily shaving inflicts significant trauma to the skin leaving it vulnerable to the stresses of modern life and environmental insult. Daily facial care is therefore of utmost importance for men.  Have the edge on the others at an important interview, feel great on a special date, your wedding day or civil ceremony, in fact on any special occasion. When all eyes are on you, you need to look your very best, presentations, meetings, lectures, speeches etc.
Man

-icure
Fresh and Bright Nails trim Under nails cleansing Hang-nail removal Cuticle care Cuticle tonic Nails buffing Hands exfoliation Hands and nails apothecary cream
Man-icure Executive Soak in nail-brightening liquid Nails trim Under nails cleansing Hang-nail removal Cuticle care Cuticle tonic Nails buffing Hands exfoliation Hands and forearms massage Hands and nails apothecary cream
Man

-date Fresh & Healthy Facial
Skin check for type and blemishes Exfoliation with Refining Facial Polish Hot, steamy towel to open the pores Deep Pore-Cleansing Cream Witch Hazel Toner to close pores Massage of facial muscles with Facial Massage Cream Firming Eye Gel Moisturiser to keep the skin supple and younger looking Finalize with Revitalizing Facial Spritz Relax to allow spritz to dry naturally
Man-Date Executive Facial Skin check for type and blemishes Eyebrows, sideburns & auricular grooming Exfoliation with Refining Facial Polish Hot, steamy towel Vitamin C & Honey Peel-off Masque Green-Tea Eye Pads Other Grooming (as required) Deep Pore-Cleansing Cream Witch Hazel Toner to close pores Massage of facial muscles withFacial Massage Cream Firming Eye Gel Moisturiser to keep the skin supple and younger looking Finalize with Revitalizing Facial Spritz Relax to allow spritz to dry naturally